Driving a Data Culture
This is the 6th year of Power BI. Power BI has always been about driving data culture and has been rapidly evolving throughout its data journey.
Power BI is top of the Gartner Magic Quadrant and growing exponentially across users and business. Lets have a look at where we have come from and where we are going.
The Power BI Journey
Power BI started by wanting to empower Business Analysts. The next step was to empower IT departments
At the beginning of the journey the two targeted user groups wanted different things.
Business Analysis want quick BI with no red tape. IT wants governance, control and repeatability. By 2018 Microsoft was starting to think about both of these user groups and how Power Bi could work with each use case.
These use cases split into Enterprise and Self Service BI.
Microsoft moved to bring both Enterprise and Self Service together. Power BI was proving so popular it seems the best development was to bring enterprise reporting and semantic models into power BI
The following licensing was created to allow for this economic disruption
Built on Azure and deployed in over 50 data centers. Power BI used the cloud to bring about economic disruption
The cloud also offers a great economic model (Economies of Scale). Originally we had free and Pro for our business analysts. Premium became available in 2017 as an enterprise solution.
Enterprise And Self Service Converged
By 2018 with power BI, Microsoft aimed to
Empower every individual
Empower every team
Empower every organisation
Moving on to 2019 and 2020
Power BI increases its market share considerably and with every month of development comes huge changes to the product. Its now becoming a game changer for both self service and enterprise use.
AI Capabilities
Information workers need more, and power BI gave us more with inbuilt AI capabilities.
Key Driver Analysis
Key influences Visual
A great visual to look at the influences on your data. I have used this, for example to look at what drives negative tweets for a company. It also segments your data into understandable groupings
Smart Narratives
This visual provides textual analysis of your whole report or specific visuals. It will update the narrative dependant upon what the user selects.
This is a great visual for users who need to see descriptions along with the visuals to get a better understanding of the narrative.
Root cause Analysis
This is fantastic for users who want to create their own journey through the data. Select a metric and then allow the user to choose how they want to slice and dice the information. AI will find you categories with the lowest and highest values against the metric
Q&A
Q&A allows users to ask natural language questions, and Power BI will bring back the best visual that answers that question. developers can put together lists of possible questions for the user to choose from.
Powerpoint for Data
To make Power BI easy to use Microsoft decided to match experiences where ever possible to Powerpoint and Excel. This leads to massive adoption because people find it easy to use. they have already seen and used the ribbon in lots of other Microsoft products, take up is therefor a good option.
Moving to 2021
2021 brings to the table a new licence that gives smaller businesses the ability to buy in Premium licenses at a user level rather than pay for a Premium node.
This can work out much cheaper for smaller companies so you don't have to miss out on Premium services.
AI Capabilities for Business Analysts
Again, our information workers require more from the service
Power BI has the most complete AI capabilities in any BI product. Along with the visuals mentioned above, the Business Application Summit introduced us to Sentiment Analysis and Key phrase extraction in more detail.
Sentiment Analysis
Azure has given us cognitive services for a while. For example, I used Azure to get tweets via Logic Apps and assign sentiment scores to each tweet.
With Premium, we can do this within Power BI. You will now be able to run data items in Power BI through sentiment analysis and assign scores. Are those reviews coming through from your customers positive, negative or neutral?
Key Phrase Extraction
Another fantastic cognitive service that I used to do pre moving the data into Power BI. Now you can get a list of key phrases from your data, and put them into a word cloud. All available within power BI
Automated Insights (Coming Soon)
Brand new Automated Insights are coming…
Automate insights will give you Anomalies, KPI Analysis and Trends out of the box.
Anomaly Detection will automatically find anomalies in time series data and also attempt to explain these anomalies. Along with this you can also see trends in your data and get explanations on these trends. Trends and anomality's gives you a holistic overview of your data
And KPIS look at our Goals which is new in Premium. We will look at this new feature later.
Automated insights proactively prompt us for time critical information, but you can get insights without being prompted by clicking the Automated insights button.
It works without any set up or configuration (Apart from KPIs because this needs Goals to work with.
AI for Data Scientists
Extend with Azure ML
Create ML Models
Python and R Integration
Explore Predictions
Going beyond on the power BI Journey (What is coming)
Insight to Action through Power Platform
Power Apps has been available for some time to embed into a Power BI Report but there has been a lot of work done in this area to make it work better within the power BI suite.
I have used a Power Apps Visual to allow users to send data back to a database, which would then display within Power BI as it was a direct connection.
New features include Power Automate within Power BI. You can now add a button in Power BI that will trigger Power Automate. I cant wait to look at some use cases for this new service.
One question I have is regarding Logic Apps within Azure. Logic Apps is the same service as Power Automate and I want to know why the decision has been made to call the same product two different things. And if Logic Apps can stand in for Power Automate in this situation.
Performance management
Power BI Goals is in Public Preview and available for Premium users
Goals is a new Power BI artefact that you can set up on your metrics that matter the most to you. You can assign data from reports to update your goals and users can drill through into your reports for further analysis.
Another fantastic new service, its a shame its only offered to Premium users. Thankfully Premium per user allows buy in to these new services for smaller companies.
My one concern is if you are using Premium Pipelines to host Development, Test and Production workspaces.
We are still waiting for dataflows to be added to this feature, its doubtful whether goals will be included when introduced.
This would mean that you cant move your goals from dev through to production so hopefully I am wrong about this.
Real Time Analytics
Power BI Streaming Dataflows
Streaming dataflows should be coming later in 2021 as preview.
Streaming dataflows is a brand new concept in power BI, and for the first time will offer the ability to combine multiple data sources into a streaming dataflow.
This is again another Premium feature
Front line workers
Insights on the Move
There have been significant improvements to the mobile apps which are getting great reviews from both Apple and Google stores.
Empowering Every Team with Teams
Great Teams use data and we can embed Power reports in teams channels so we can add Power BI reports to meetings and provide links within chat.
Microsoft have put a lot of work into bringing the Power BI Service into Teams for much better collaboration. They want Power BI to be as fundamental to what you do as your calendar, meetings or chat.
It's recommended to make sure that you make sure the Power BI App is always available in your tools panel
One issue I have with Power BI in teams is having to navigate away when you are using chat. If I am looking at a document in Teams and I see that someone is chatting to me, it can be annoying to have to leave the document to see what else is happening. Hopefully they sort this functionality out.
Power BI In the real world with HoloLens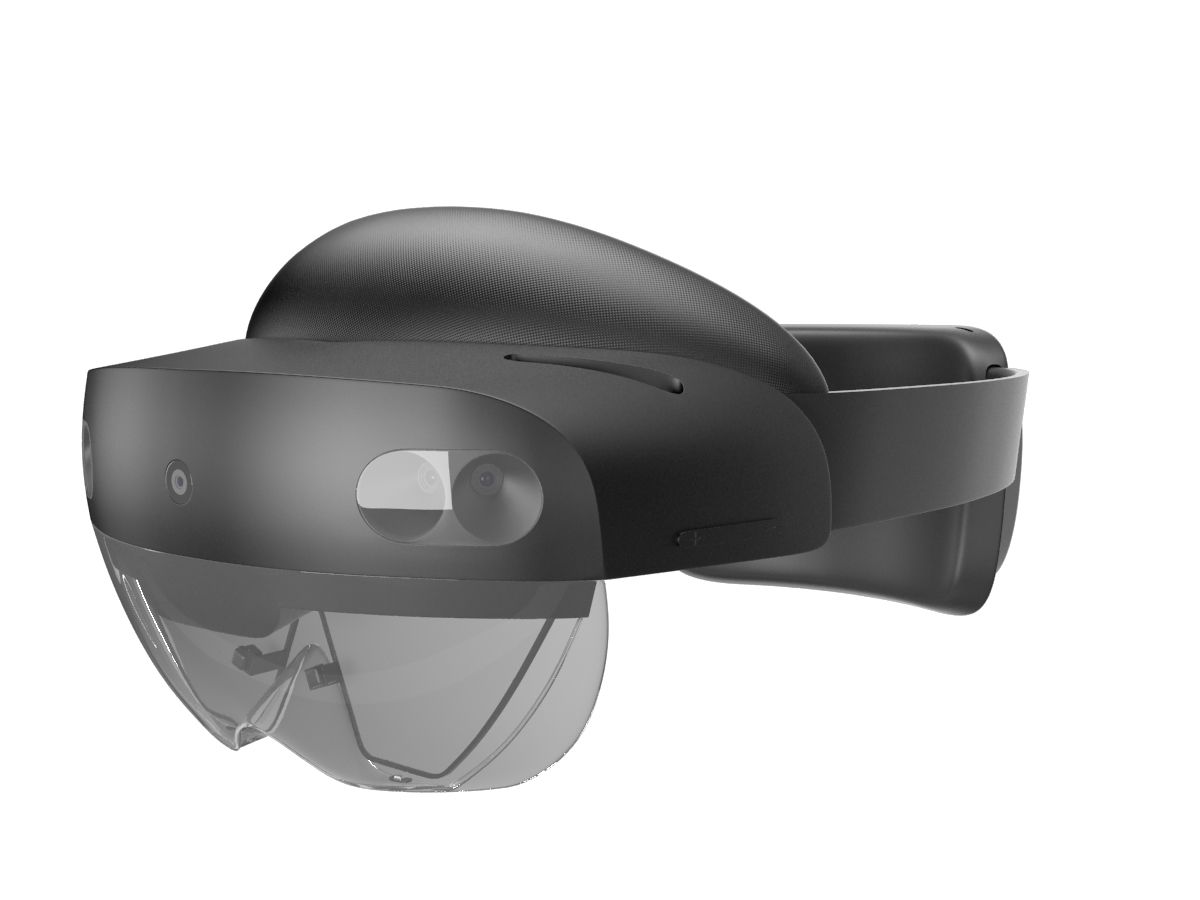 Straight out of science fiction. The HoloLens 2 allows you to augment Power BI Analytics over your real life journeys. This gives you Analytics where ever you go.
I would need to think about how and when you would need this but they gave a great example of walking through an office and having virtual tv points up on the walls.
New Announcements for Power BI analytics
In part two there was lots of exciting announcements of new features coming to Power BI
Drill down and drill through on the tooltip
Power BI has given us a few ways to do drill down and drill through.
For drill through, You could right click on a visual or even create a button to click to drill through on the highlighted item.
Drill down was available as an icon at the top of a visual
But very soon it should be even easier to establish that these options are available. Power BI Will soon have both Drill through and Drill down available on the tooltip.
Paginated report within your Power BI reports. Vertical Headers. etc
Build a Paginated report table in report builder with vertical headers, grouping, nesting etc and then add this visual to your Power BI report
New Standard Table visual in Power BI
These new options will be added to the table visual. This is the current experience
But soon we will be able to add sparklines within the table, both column and line sparklines.
This is one of the biggest requested additions so its great to see that we will soon have sparklines on the standard table visual.
Buttons Bookmarks and Navigations
I have been using Power BI for a few years now and the one thing I have always disliked is the workaround feel of creating button navigation. Having to layer buttons or visuals over the top of other eachother and hiding and unhiding where appropriate. It was time consuming and overly complex.
Microsoft are working on new navigator features to set up new custom navigation. This is one of my favourite new features.
Have a few bookmarks on a page and want to switch to different bookmarks. Then use Bookmark navigation. Just drag it in and you will get configurable navigation on all your bookmarks.
How about Page Navigation. Same again. Simply drag page navigation onto your pages.
This is fantastic and you can even use custom navigation so users can only navigate to specific pages . It would be great if you could add images to these buttons too but lets see how things develop.
Other Announcements
Paginated reports inside Power BI.
Smart Narratives going into General Availability
Anomaly Detection going into General Availability
Automated Insights is shipping later this year
Data set hub to recommend promoted and certified datasets
Excel – Connect to data sets using Get Data in Excel
Coming soon, the ability to create Power BI Apps and turn it into a Teams App, bringing Teams and Power BI together
Quick Create from Sharepoint lists
Live connected to the datasets in order to connect to multiple datasets being updated.
Governance and Scalability
Microsoft Information Protection
MIP is becoming an even more important part of security in Power BI and across all Microsoft services. This is a complex area and requires much more research. Including what Information protection service is best for you. We will look at this in more detail in another post.
Its important to note that there are additional costs per month to this service.
Scalability
No matter what the data volume is, your queries should always run fast
Automatic Aggregations
Based on the existing aggregations feature. If a user happens to drill down to detailed reports the system will automatically reverts to direct query, rather than the imported data.
Previously, this had to be set up by the developer but moving forwards the aggregations will be created for you.
Coming later this year and brings together Power BI and Azure Synapse Analytics (If using the Azure Warehouse as the underlying database)
Large Models Feature
Another Premium feature. Used with incremental refresh a dataset can grow up to 80% of the premium capacities total memory.
Hybrid Tables
Used for fast real time analysis.
Partitions are created by year and your current year will be set against real time data. This is such an exciting announcement. I cant wait to get started with it. (Premium only)
Streaming Dataflows
Azure Stream Analytics is used for this. (See Power BI Streaming Dataflows)
(Premium only)
Conclusion
The Microsoft Business Applications summit was again, full of really exciting new innovations.
However, Its becoming really clear that those on pro licenses are now really missing out on features like Goals, streaming dataflows, machine learning, etc.
At the beginning of this journey, the big factor for moving to Premium was simply to give viewing access to many more people, along with the security that power BI provides. This is simply not the case any more.
Thankfully Premium per user licenses gives smaller companies a way to move to Premium at lower cost. the barrier to entry has been significantly lowered and it seems that Microsoft expect us to move to those licenses if we don't want to get left behind.
it should also be noted that those that have Power BI Premium through their E5 licences can simply pay the difference and move up to the Premium per user licenses.
Another slight negative was the fact that there are issues with features already available that were not dealt with at the conference. The big one for us at the moment is the fact that Premium Pipelines simply don't work with dataflows.
When the recommendation has been to use dataflows to separate this job out from the pbix file, it seems a real shame that they have not acted accordingly to get this into Pipelines (Maintain Development, Test and Production areas)
Another feature of Power BI that is lacking is source control. there are hopefully some new features coming to configure with DevOps. It is to be assumed that any changes to this will be Premium only.
With this in mind, its still exciting to see all the new updates, and the fact that they are tying Power BI in much more strongly with the other Power Platform offerings.
What was your favourite announcement from the Microsoft Business Applications Summit this year. I would love to hear your thoughts.